TechConnect Zoom for Canvas
Faculty Guide
'TechConnect Zoom' is the new Canvas integration (replacing the old ConferZoom integration) that will offer more scheduling options, faster recording downloads, and applied Zoom updates.  The new app appears in your Canvas navigation and is a direct connection to Zoom.  The interface looks just like Zoom, because it is Zoom! Click on the 'TechConnect Zoom' app in course navigation.  The menu tabs include:
All My Zoom Meeting/Recordings or Course Meetings/Recordings
Schedule a New Meeting
Import a Meeting (icon is the 3 vertical dots)
Upcoming Meetings
Previous Meetings
Cloud Recordings

* When there is more than one instructor in the course, all meetings/recordings for all instructors can be viewed; or view only your meetings/recordings.  The option to toggle between the options is to the left of the 'Schedule a New Meeting' button.
Import a Meeting
Meetings scheduled in the ConferZoom app in Canvas can be imported into the TechConnect Zoom app.
Locate the 'Session ID' in the ConferZoom app by clicking on the 'More Details' link that appears when you click on the Topic (meeting title)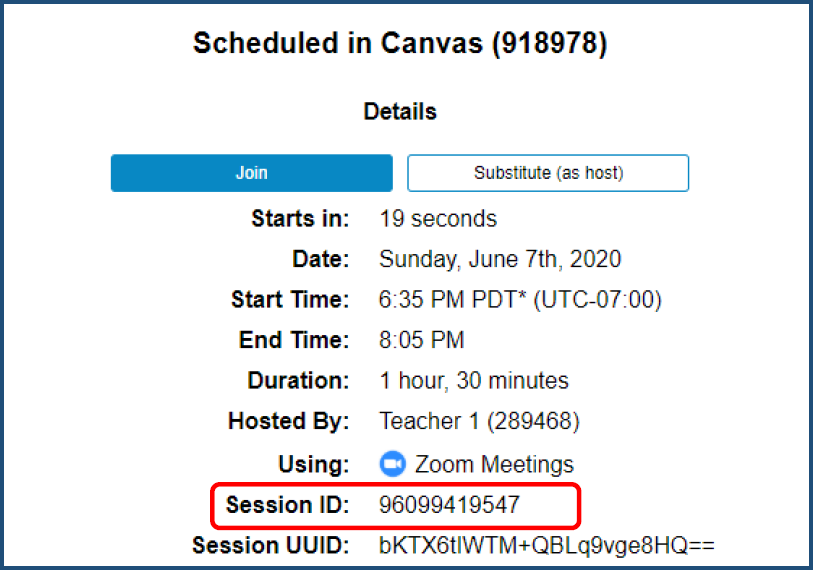 This step will also trigger the event to appear in your account on www.conferzoom.org. The information below the 'Start Time' indicates this was a Canvas scheduled event.

Notice the Session ID and the Meeting ID are the same. Copy the ID to be used to Import the session into the TechConnect Zoom or Zoom app in Canvas.  Click the 3 dots icon in the TechConnect Zoom application, then 'Import meeting', enter the Meeting ID on the window that opens. The meeting will populate on your 'Upcoming Meetings' page.
Schedule a New Meeting
The default features settings in your Zoom account will apply to all scheduled meetings/classes.
The form allows you select or deselect the default features shown in 'Meeting Options' to apply on a per meetings basis.
Enter appropriate information, then 'Save' at the bottom of the form.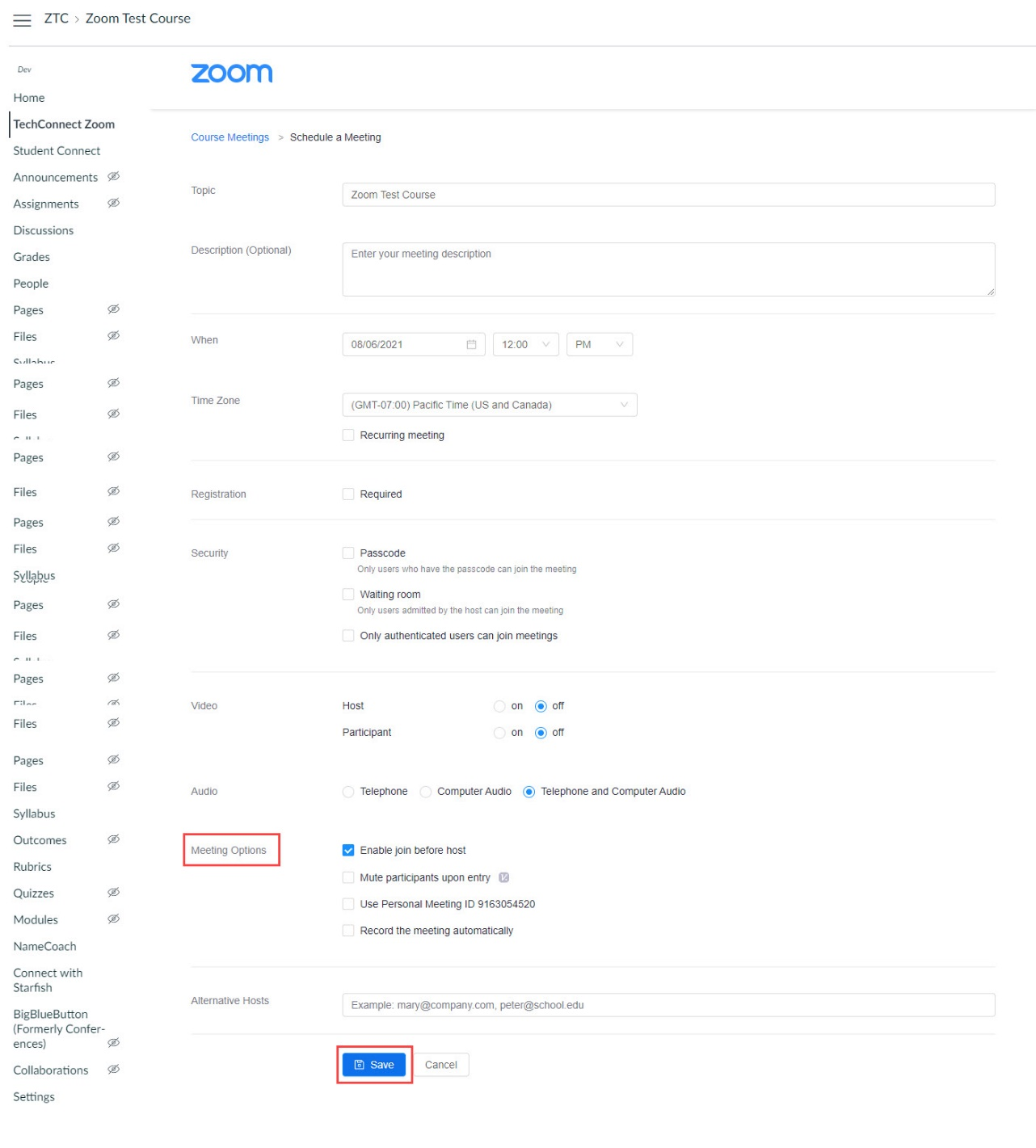 Upcoming Meetings
Displays all scheduled events.  Launch the meeting by clicking the 'Start' button.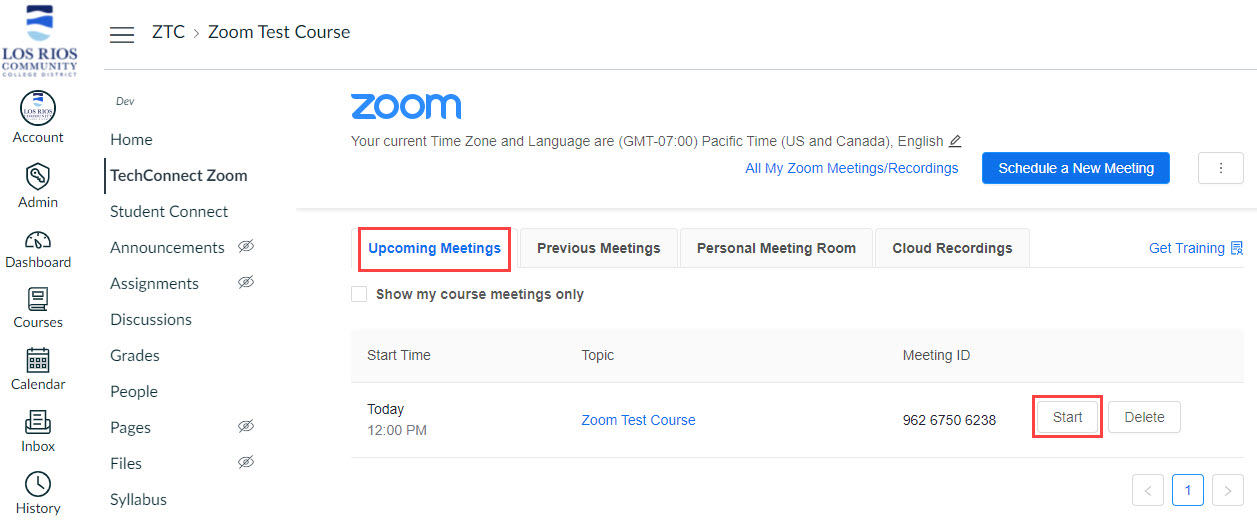 Previous Meetings
Displays previous events.  Meetings will appear on this page after the scheduled end time.
Click 'Report' to view the attendance record for this event.

Personal Meeting Room
This is a quick launch meeting, using a static meeting ID for every event.  Your Personal Meeting Room is a 24/7/365 open room; anyone with the ID could join at any time, possibly interrupting a session in progress.  Quick Launch meetings will provide attendance tracking.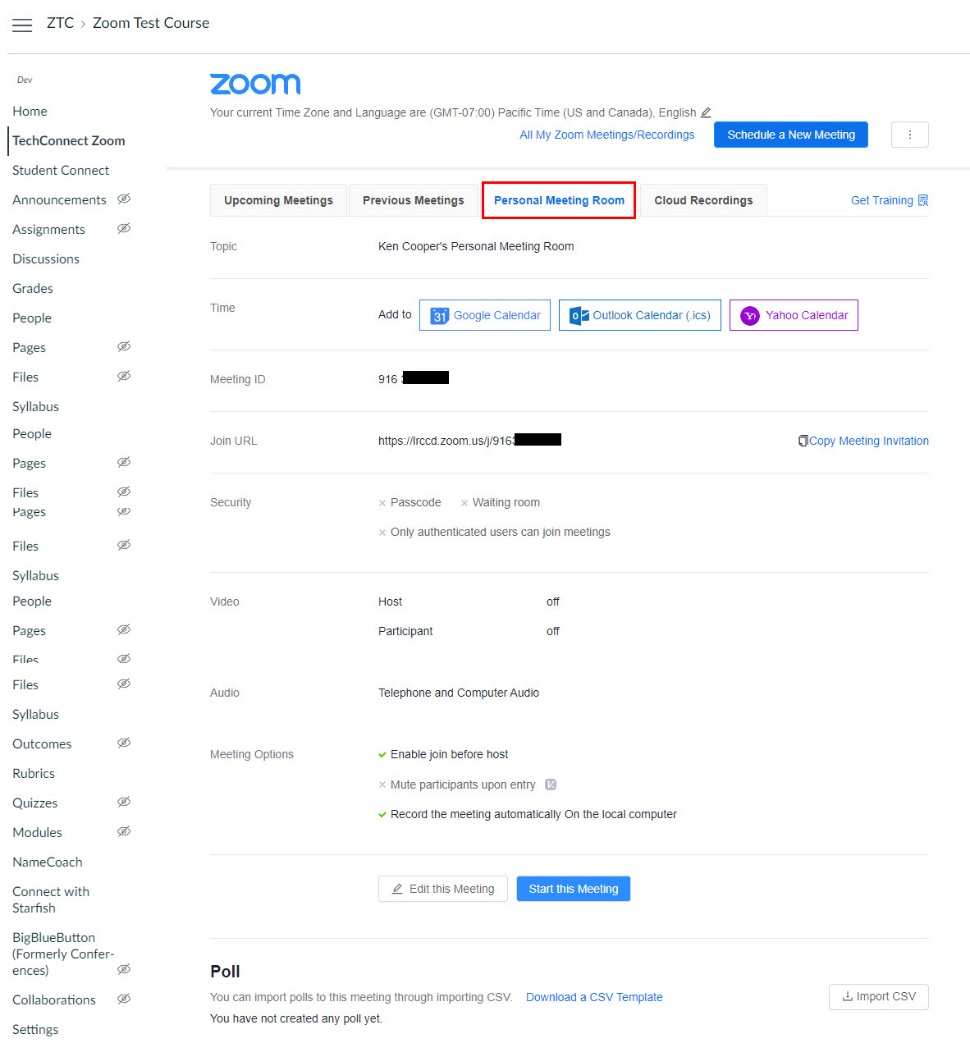 Cloud Recordings
Recordings process after the Host and all Participants have left the meeting.  When processing is complete, the recording will appear on this page.  If you left the meeting before the scheduled end time, the recording will begin processing.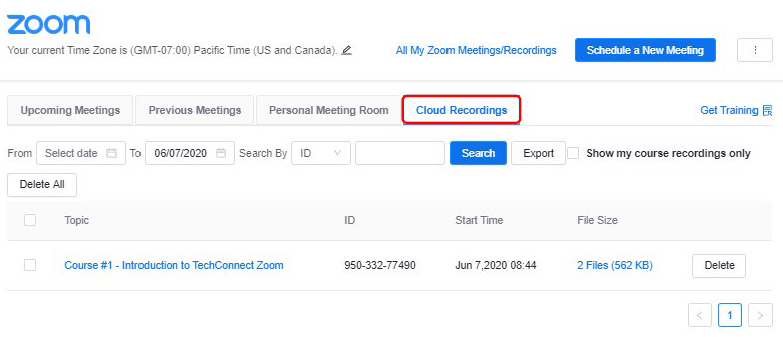 TechConnect Zoom Support
1-760-744-1150 ext. 1543
Email – support@ccctechconnect.org
Monday – Friday 7AM – 4PM
If you need assistance or have questions please submit a Canvas Support Request.