How do I get an enrollment appointment?
Enrollment appointments are system generated for continuing students and students with a current application on file.  They are assigned for the priority enrollment window beginning in mid-November for the spring semester and mid-April for the summer and fall semesters, until open enrollment begins.  Students are sent an email, to their Los Rios Gmail account, with this information.  Once assigned, enrollment appointments can also be viewed any time, in eServices.  Log into eServices and look in the Enrollment Appointment box, on the right side of the screen.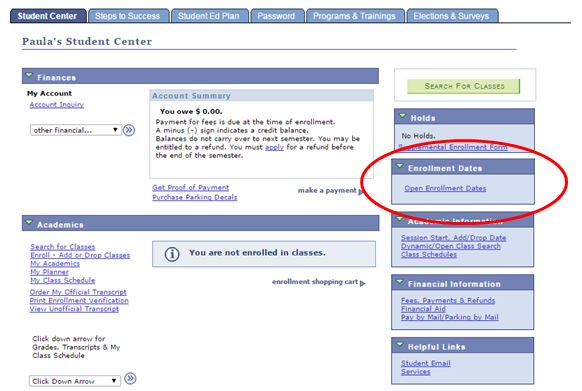 Your enrollment priority is determined as follows.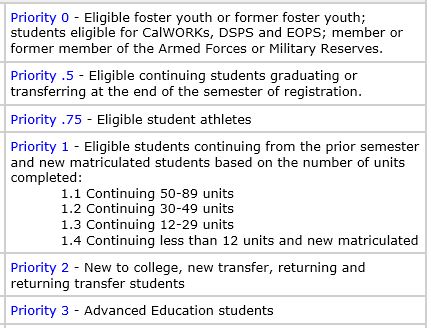 More information about enrollment appointments can be found on the Enrollment Instructions page.
Current priority windows can be found on the Registration Dates page.
If you do not have a current application on file, you will not be assigned an enrollment appointment.  To submit a new application go to the Application page.
Students no longer eligible for Priority Registration.
1) Students who have earned 90 degree applicable units in Los Rios will no longer have priority registration.  Non-degree applicable classes which are numbered below 100 such as MATH 20 and ENGWR 51 do not count towards the 90 unit limit. If you have already earned 70 or more degree applicable units, you are likely to reach the 90 unit limit before the end of the term. It is important that you only enroll in courses that count toward your degree or certificate. Once you reach 90 units earned, you will no longer be eligible for priority registration and will have to wait for Open Enrollment to enroll in classes.
2) Students who are placed on academic or progress probation for 2 consecutive terms will no longer receive priority registration (probation is due to a low grade point average or excessive withdrawals). It will be important that you complete every class for which you register with a C grade or higher. If you go on to second semester probation, you will have to wait for Open Enrollment to enroll in classes.
If you are unable to find a resolution to your issue or have further questions please submit an EServices Support Request.